Antje Herzog
Be Happy The Family Care Company
Crafter
---

'BE HAPPY The Family Care Company' is a family-owned natural skin & hair care company that was founded in Johannesburg in 2010. They have been a stallholder at the Bryanston Organic & Natural Market since 2012. Today they research, develop & handmake their range of eco-friendly products on their permaculture farm in Plettenberg Bay. Their products are blended in small batches in their ECOsandbag lab with fresh ingredients to create many unique NATURAL products with herbal ingredients, like their liquid Castile Soaps which gently cleanse, nurture, balance, repair and rejuvenate skin and hair. BE HAPPY also hand-makes a vegan, Naturkosmetik range of lotions, cremes, other specialized medicinal herbal lotions and organic Hydrolat skin care, mild Baby care products, MAN skin care and also PETcare.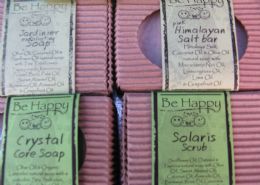 Soaps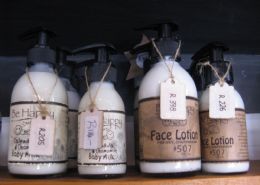 Facial lotion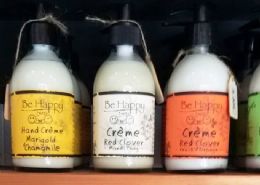 Hand & Body lotion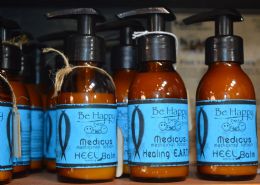 Heel balm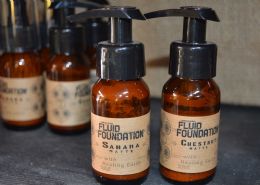 Liquid foundation-Porcelain, Sahara,Chestnut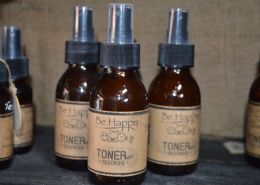 Toner-Regenisis

BE HAPPY's range of personal care products is freshly hand-made and designed for everyone that prefers the natural way to caring for her/his body & hair. The BE HAPPY team is passionate about creating and protecting a sustainable environment, customers will not find any toxins present in their products. BE HAPPY's products are FREE of chemicals, like silicones, phosphates and sulphates, EDTA, amines and amides, nano particles, parabens, acrylates copolymers or similar thickeners, polyethylene glycols, chemical preservatives, and they naturally have a 0 % VOC content. BE HAPPY's products are sustainable products made from renewable resources - most of the ingredients are farmed in the African continent. They blend their range of Castile Soaps with the localislekka GREENLEAF Extra Virgin cold-pressed Olive Oil. BE HAPPY is friends of animals - naturally No Animal Testing. All of their packaging is 100% recyclable and many of their products are retailed in local glass with paper labels.